PYRO.DJ
PYRO.DJ is a platform I built for the music brand PYRO in Shanghai, it supplies professional DJ with plenty of tracks for DJ remix or playing in the club. On the other hand, it serves the electrophonic lover as a music app.
I worked with the team to build the product from scratch, designed all the UI/UX, developed both frontend and backend, handled all the deployment works, etc.

It was a good experience working with a bunch of DJs to build a new product from 0. I tried a new workflow for practicing agile development, also tried a lot of new things in UI designing and tech architecture. In this post, I wanna demonstrate more details of the product from all aspects
Tech stack:
Frontend: React, Mobx, Sass, HTML, Webpack
Backend: Node.js, Postgres, Redis, NSQ
Devops: Docker, Docker-compose, Nginx, Aliyun
Wechat Mini App: Native framework, Sass, Gulp, Minii
Website:
The website is designed for serving professional DJs. Plenty of music is available with daily updates, users can listen and pick their favorite tracks, download them as a pack. PYRO team also working with other DJs to supply Sets and Hot-picks for users to get inspiration.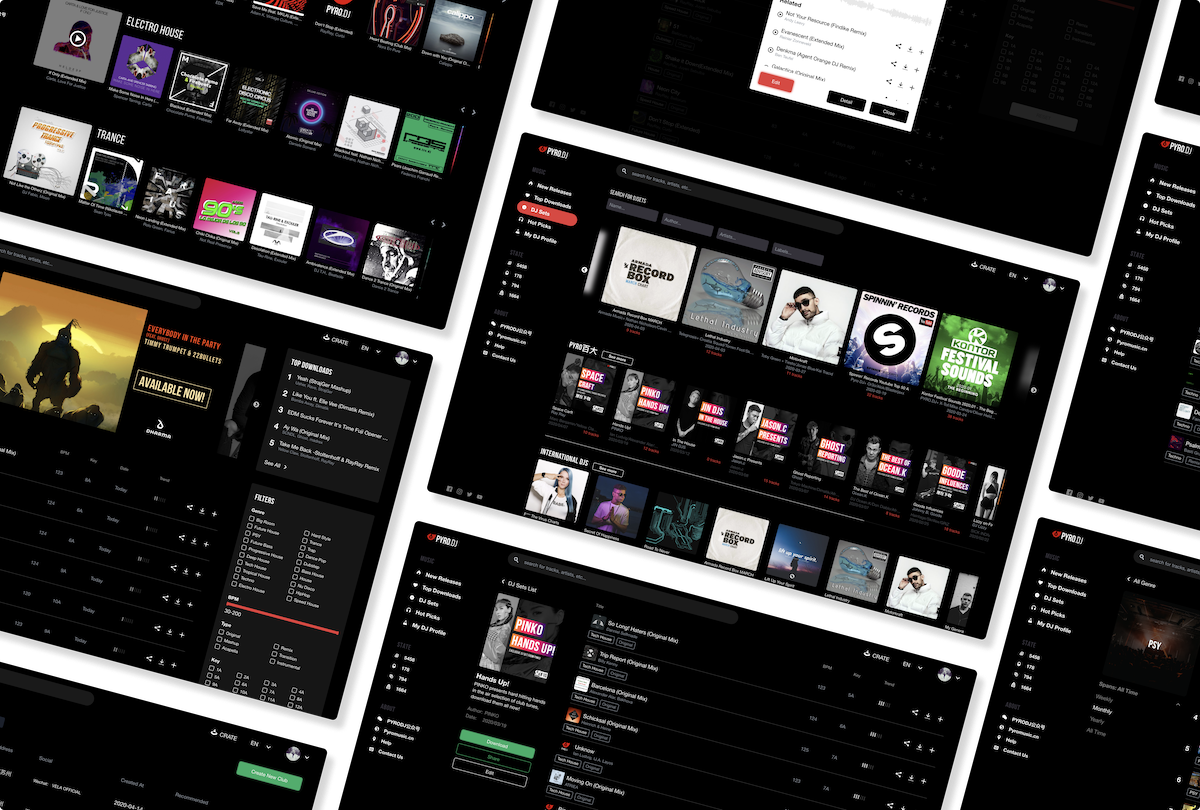 Hot-picks base on category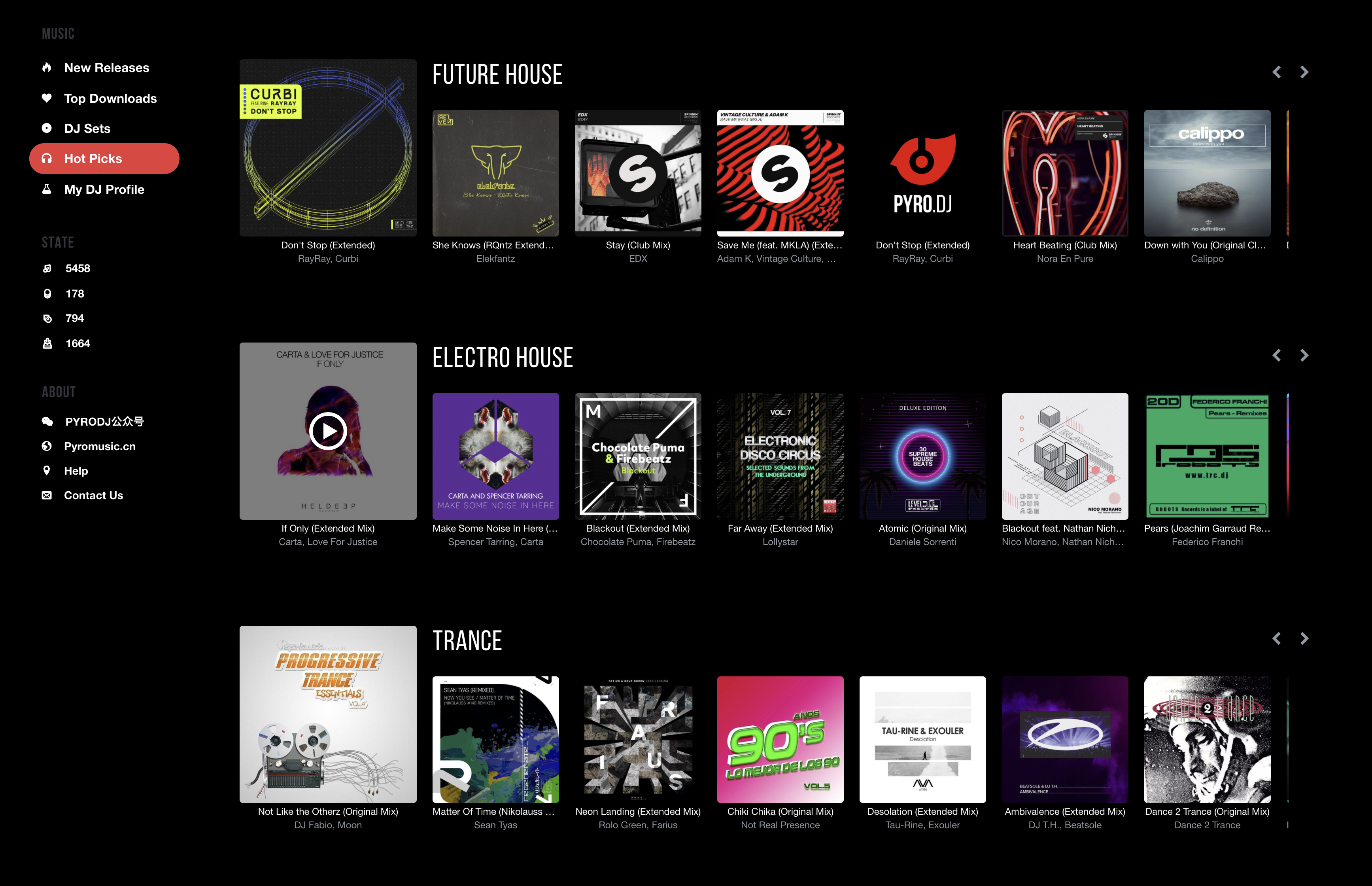 Check the track's detail and recommendations. The edit button is visible to admin users for quick editing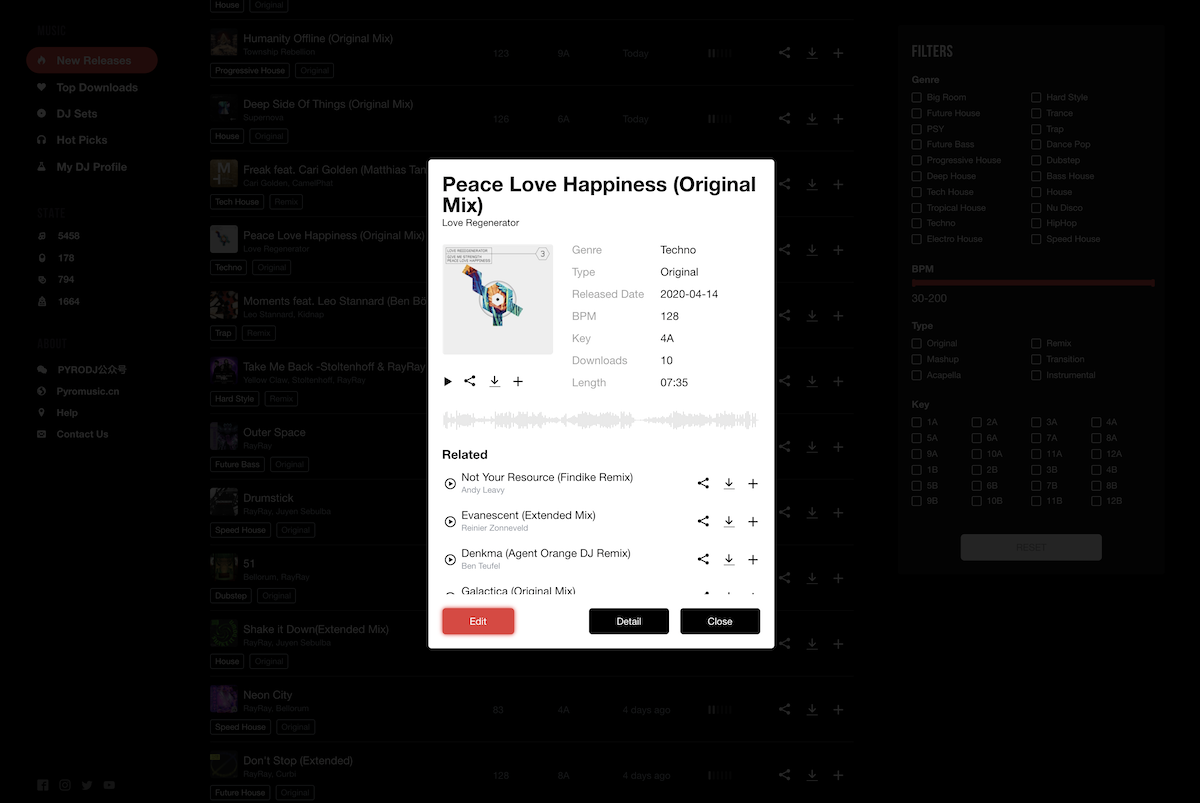 Besides, the user can create their DJ profile on the website and upload mixes, these content will be displayed on the Wechat Mini App, the electrophonic music lovers can not only listen to the music on the mobile app but also follow their favorite DJs, Clubs or events.
Every new user gets 50 free downloads, after that, they can buy the services by months via Wechat payment, or subscribe by the credit cards. The platform also includes an affiliate program to encourage users to share and introduce the product to their friends.
Wechat Mini App:
The Wechat Mini App mainly serves all the electrophonic music lovers, they can listen to the mixes created by other DJs, follow their favorite DJ, find and subscribe to the clubs and events they are interested in.
Last
We got a few paid users after the public release, not as much as expected might because of the current virus situation. But it left us more time to polish the product and build the Wechat Mini App to reach more audiences.
The platform took around 3 months from a Google Doc to the beta launch. During this time, I deployed updates every week so we can preview and iterate the product in the correct direction.
After overcoming all the challenges, we both feel excited working with each other because we share the goal to build a useful and cool product.
Happy creating :)
Back To Homepage